"Worry doesn't empty tomorrow of its sorrows; it empties today of its strength."—Corrie Ten Boom

Pressure is external and is a cause. Tension is internal and is a reaction. Stress is a negative buildup to pressure of unreleased or undirected tension. Positive tensions are eagerness, excitement, and anticipation. Negative tensions are worry, fright, and irritability.
Constant worrying, negative thinking, and always expecting the worst can take a toll on your emotional and physical health. It can leave you feeling restless and jumpy, cause insomnia, headaches, stomach problems, and muscle tension, and make it difficult to concentrate at work or school. You may take your negative feelings out on the people closest to you, self-medicate with alcohol or drugs, or try to distract yourself by zoning out in front of screens.
The first step to dealing with worrying and anxiety is to realize what you can do something about and what you cannot do something about. If it is beyond your control, accept that.
If you can do something, then get up and get moving. Share your worries with a good friend or spiritual person. You may be surprised how discussing your worries may allow for some fresh ideas and even a solution. Through it all, have faith that everything is going to be alright!
It's not unusual for a supermodel to grace the cover of a well-known magazine, but when said supermodel is 83 years old — that's something to talk about.

Carmen Dell'Orefice appears on the special edition cover of New You magazine wearing all black, long gloves, pearls and a perfect pout.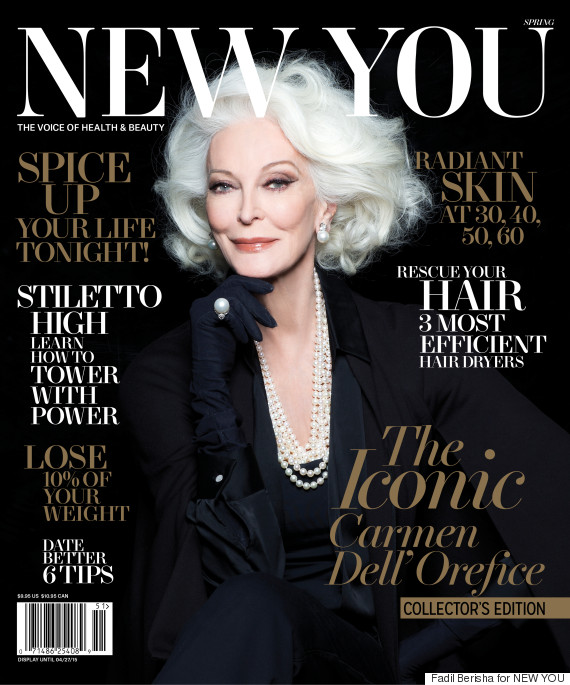 Though Dell'Orefice confessed last year that she's still "figuring out how to do the job" despite her 70-plus years working in the industry, this fierce cover proves yet again that she's still at the top of her game.

"I have had more magazine covers in the last 25 years than I have had in my whole elongated career," Dell'Orefice told the magazine. "Today I am in a territory that business considers unmarketable: age and white hair. Slowly, however, I started to own that territory little by little because I stood up for age."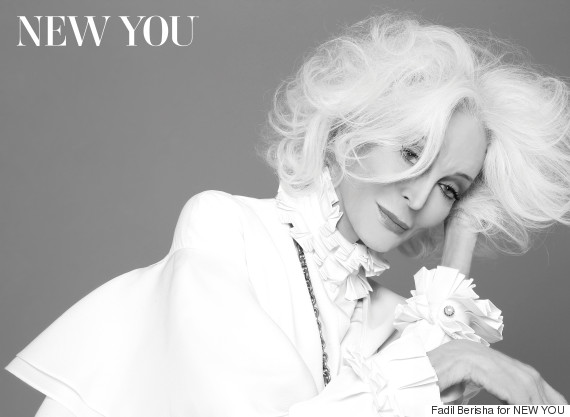 Having a double chin certainly looks unattractive. I think it ranks right after crows' feet as the #2 ager. The only way to prevent a double chin is diet and exercise. Also, to make sure that you are not holding your chin in a downward position during times such as when watching TV. Do the following exercise daily:
Tilt your head back and look toward the ceiling.

Push your lower jaw forward to feel a stretch under the chin.

Hold the jaw jut for a 10 count.

Relax your jaw and return your head to a neutral position.

Repeat this 10 times.
People seem to neglect their teeth for some reason. In this day and age, yellow teeth, rotten teeth, gum disease is unacceptable. Your smile is worth at lease a million dollars--take care of it. Brush daily, preferable with Embellir's PURE WHITE toothpaste and/or our line of toothpowders. See your dentist regularly for cleanings, cavity care, veneers, or implants.
Losing weight is simple--burn more calories (heat units) than you store. Yet, somehow we seem to want the magic pill. No matter what age you are, if you are overweight, you will look older than your years. With all the delicious food and the variety of fast food available today, it is easy to become overweight. It has been estimated that 1/3 of Americans are overweight--some obese. While most of us do not need to be rail thin like supermodels or actors, we do need to maintain a healthy weight for our body style. If you are overweight, just make up your mind to exercise more and eat healthier. You can also check out http://embellir.us.com/weight.html for some wonderful and helpful tips.
REMEMBER, we are trying to age gracefully here! Read our next blog for 5 more ways to combat the big 15 things that make us look older than our years and to stave off 10 years for as long as possible.